Print this page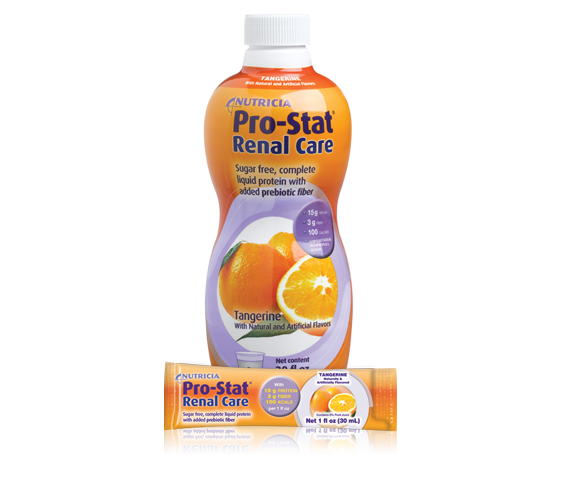 Pro-Stat® Renal Care
A sugar-free, ready-to-drink medical food providing 15 grams of enzyme-hydrolyzed complete protein, 3 grams of prebiotic fiber and 100 calories per 1 fl oz.
PRICE:$163.50 (Per case of 6 Bottles)
FEATURES
Clinically shown in one study to improve protein anabolism in hemodialysis patients1
15 grams of complete protein and 3 grams of prebiotic soluble fiber in 1 fl oz
Hydrolyzed for rapid absorption & efficient utilization2
High in conditionally indispensable amino acids needed for recovery3-8
Sugar free 
Low volume making it appropriate for fluid restricted
Available in great tasting tangerine flavor
Available in bottles or unit doses
Honey-like viscosity
Lactose free, gluten free, and soy free
Kosher
For oral and enteral use under medical supervision
Indications:
For increased protein in low volume related to:
Pressure ulcers
Wounds (diabetic, venous, surgical, burns)
Dialysis
Unintentional muscle loss
Protein-Energy Malnutrition
Low serum proteins
Muscle loss (sarcopenia)
Fluid Restricted
Inadequate protein & fiber intake
1. Sundell MB, et al. J Ren Nutr. 2009;19(5):412-21.
2. Koopman. R et al. Am J Clin Nutr. 2009;(1)106-15.
3. Morris SM, Jr. Annu Rev Nutr. 1992;12:81-101.
4. Curis E, et al. Amino Acids. 2005;29(3):177-205.
5. Wu GY, et al. Biochem J. 1992;281 (Pt 1):45-8.
6. Schwedhelm E, et al. Br J Clin Pharmacol. 2008;65(1):51-9.
7. Waugh WH, et al. Am J Hematol. 1999;61(3):216.
8. Waugh WH, et al. J Natl Med Assoc. 2001;93(10):363-71.
NUTRITION
Nutrition Information per 30ml serving

Calories, kcal
100
Protein, g
15
Fat, g
0
Carbohydrate, g
6
Fiber, g
3
Sodium, mg
50
Potassium, mg
20
Phosphorus, mg
50
INGREDIENTS
Hydrolyzed Collagen Protein, Water, Glycerin, Polydextrose, Fructo-Oligosaccharides (FOS), Malic Acid. Contains 2% or Less: Natural & Artificial Flavor, Phosphoric Acid, L-Tryptophan, Sucralose, Potassium Sorbate (To Help Protect Flavor), Sodium Benzoate (To Help Protect Flavor).
PREPARATION & STORAGE
Administration:
Use under medical supervision. Healthcare professionals should determine intake based on condition, estimated need and dietary intake. Suggested intake: 1-3 servings per day. Administer orally or through feeding tube. Not suitable for use as a sole source of nutrition. Not for parenteral use. Suitable for adults.
Oral Feeding:
Can be taken straight or mixed with any hot or cold beverage or food.
Tube Feeding:
Flush feeding tube with 30-60 mL water.
Pour 30 mL of Pro-Stat® in a 4-6 fl oz container.
Add 30-60 mL water and mix well with a disposable spoon or tongue blade.
Administer Pro-Stat® via syringe.
Flush with 30-60 mL of water.
Storage:
Store at room temperature.
Refrigeration causes gelling.
Discard 3 months after opening.
Record date opened on bottom of container.
Do not use if seal is broken.