Print this page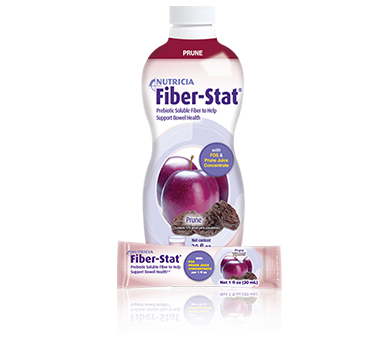 Fiber-Stat®
A low volume liquid prebiotic fiber medical food for the dietary management of bowel regularity in persons unable to meet fiber requirements through a normal diet.
PRICE:$130.50 (Per case of 6 Bottles)
FEATURES
15 grams of soluble prebiotic fiber (60% DV) in 1 fl oz
Contains fructo-oligosaccharides (FOS) and polydextrose to support gut health1-2
Low in phosphorus, potassium and sodium
Ready to drink or mix with any food or beverage
Available in bottles or unit doses
Thin Viscosity
Lactose free, soy free and gluten free
Kosher
For oral and enteral use under medical supervision
Indications:
Constipation
Bowel irregularity
Low fiber intake
Colon health
1. Losada, MA & Olleros, T. Nutr Res. 2002;22:71-84.
2. Jie, Z et al. Am J Clin Nutr. 2000 ;72(6):1503-9.
NUTRITION
Nutrition Information per 30ml serving

Calories, kcal
50*
Carbohydrate, g
25
Total Sugar, g
2.5
Dietary Fiber, g
15
Soluble Fiber, g
15
Sodium, mg
15
Potassium, mg
52
Phosphorus, mg
25
*Glycerin & polydextrose provide a source of calories
INGREDIENTS
Water, Polydextrose, Glycerin, Prune Juice Concentrate, Fructooligosaccharides (FOS). Contains 2% or less: Sodium Benzoate (to help protect flavor), Potassium Sorbate (to help protect flavor), Phosphoric Acid.
PREPARATION & STORAGE
Oral Feeding:
Intake to be determined by your healthcare provider. To add 15 g of soluble fiber to the diet, take 1 fl oz (30 mL) a day. Can be taken straight or mixed with any hot or cold beverage.
Tube Feeding:
Flush feeding tube with 30-60 mL water.
Measure and administer the prescribed dose via syringe.
Administer Fiber-Stat® straight into the enteral tube.
Flush the tube with an additional 30-60 mL water.
Precautions:
Do not consume more than 4 tablespoons (60 mL) per day without healthcare provider recommendation.
Do not use if intestinal obstruction, fecal impaction or known allergy to any component is present.
Not for parenteral use.
Storage:
Store at room temperature.
Refrigeration causes gelling.
Discard 3 months after opening.
Record date opened on bottom of container.
Do not use if seal is broken.