Print this page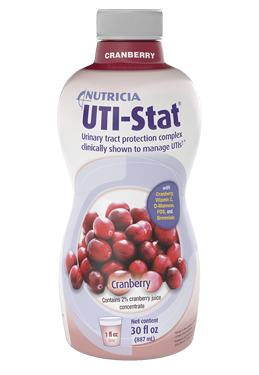 UTI-Stat®
A ready-to-drink medical food providing Cranberry Concentrate with added nutrients (vitamin C, D-Mannose, fructo- oligosaccharides (FOS), and bromelain) for urinary tract health.



For more information about UTI-Stat, contact us at 1-800-365-7354.
FEATURES
Contains a proprietary protection complex of 5 key ingredients in a 1 fl oz serving: Cranberry, Vitamin C, D-mannose, FOS, & Bromelain
Clinically shown in two studies to manage urinary tract infections1-2
Low in sugar (1 g per serving)
Available in cranberry flavor
Available in bottles or unit doses
Thin viscosity
Lactose free, gluten free, and soy free
Kosher
For oral and enteral use under medical supervision
Indications:
Management of urinary tract infections
Urinary tract health
1. Posthauer, ME. The Director. 2008;16:13-16.
2. Efros, M, et al. Urology Gold. 2010;76:841-5.
NUTRITION
Nutrition Information per 30ml serving

Calories, kcal
70*
Sugar, g
1
Sodium, mg
15
Potassium, mg
20
Phosphorus, mg
0
Proprietary blend (

Cranberry concentrate, Ascorbic Acid,D-Mannose, FOS [Inulin], Bromelain

)
*Glycerin provides a source of calories
INGREDIENTS
Water, Glycerin, Proprietary Blend (Cranberry Concentrate, Ascorbic Acid, D-Mannose, FOS, Bromelain). Contains 2 % or less: Sucralose, Acesulfame Potassium, Potassium Sorbate (to preserve flavor), Sodium Benzoate (to preserve flavor), Phosphoric Acid.
PREPARATION & STORAGE
Oral Feeding:
Take 1 fl oz (30 mL) up to 2 times a day as needed. Can be taken straight or mixed with any hot or cold beverage.
Tube Feeding:
Flush feeding tube with 30-60 mL water.
Measure and administer the dose prescribed.
Administer UTI-Stat® straight into the enteral tube.
Flush the tube with an additional 30 mL water.
Precautions:
Not a substitute for antibiotics
Not intended for use as an analgesic
Not for parenteral use
Storage:
Store at room temperature.
Refrigeration not necessary.
Discard 3 months after opening.
Record date opened on bottom of container.
Do not use if seal is broken.